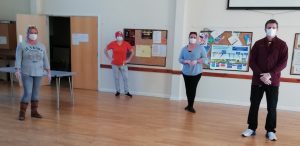 Volunteers at TQ6 Partnership/Community Chest
In this unprecedented time, Dartmouth Town Council, Dartmouth Community Chest, TQ6 Community Partnership, Dartmouth Caring, the Flavel Church and the Parish of Dartmouth, are working together to support those most in need during this difficult time.  All our contact details are shown in the table.
We have all been swamped with donations of food from local retailers, restaurants, pubs and others, too many to list here but we will all personally thank those who have donated to us.  There are so many generous people living in our community, many with new time on their hands and others who find the time.  Without all of you our charities would not be able to make the huge step change in what we offer in such short order.
Dartmouth Town Council can confirm that 900 A4 leaflets of the COVID-19 statement were printed at the Guildhall yesterday. 400 have been distributed to the following places to be picked up by members of the public: Coop, M&S, Victoria Road Spar, Mayflower Spar, McColl's, Sainsbury's, BP Garage and Dartmouth Community Chest. All shops have been given A3 versions as posters and posters have also been put up on noticeboards at Coronation Park, RAG, Guildhall and Mayflower Spar. Posters and leaflets will be distributed to Lidl today. Special thanks to the Post Office for agreeing to deliver 500 leaflets along with the government's letters to those most vulnerable.
Community Chest and the TQ6 Partnership are working out of the Townstal Community Hall 5 days a week, using the space as a central base for food parcel delivery, moving to 7 days if needed.  We are delivering to struggling families now there is no school, those who have been delayed in starting seasonal work or have been laid off, those living with the uncertainty of the wait for benefit claims and those  on lock down for 12 weeks, helping them to keep safe at home and connected to their community.
The Hall is a drop off point for South Hams District Council waste sacks now the council offices are shut, but we have to emphasise, this is NOT a drop in, we can deliver to residents, ensuring safely to all .
Dartmouth Caring has set up a brand new meals on wheels service, replacing the cancelled lunch clubs.  Established from scratch in 48 hours, meal containers, insulated boxes, amazing drivers, cook and volunteer chefs, all in place!  Something we would normally spend ages planning and thinking about just got done!  The meals on wheels service operates Monday – Friday weekly. Telephone befriending, food and prescription deliveries have also been ramped up hugely to help those stuck at home. Call or visit our Facebook page to find out more.
The Flavel Church have been opening the Dartmouth Pantry every day (except Sunday) between 10-11 am to distribute fresh and frozen food to those in need.  Call 07511 304081 if you are self-isolating and in need of food.  Our volunteers are observing recommended hygiene precautions and customers are asked to wait at the door whilst being served.
We are praying for the community and are continuing our normal bible studies, prayer meetings and services online, to keep connected with one another in these times of social distancing.  We might even try Knit and Natter via Zoom!  Email for more details if you want to join in.
St Saviours, St Petrox and St George's have remained open for private prayer and we have been live streaming services on facebook and Instagram. We have been on a steep learning curve this week, learning how to be a church for the communities we serve without being able to meet together. We have been busy helping coordinate the volunteer helpers with people in need and setting up a phone tree so that we can keep in touch with those not on social media. Most importantly of all we have been praying for everyone, especially the sick, the lonely, the bereaved and all those doing such a wonderful job in our communities and beyond. If you need the clergy for anything please contact the Parish Office.
All the charities are minimising risk and practicing safety, and if you are in need of help or would like to volunteer or help in any way, please call.
IF YOU NEED HELP, especially if self-isolating, please phone or email any of the numbers below. We are working together to provide essential services – and we will help you.
We cannot offer medical advice or assistance – for this, refer to NHS & Government guidance.