EVENTS

Dartmouth Membership Raffle Draw
Trustees have been discussing for a while now how we run the draw.  They have recently agreed to some proposed changes.  These mean that with effect from 1st April we are changing the way the draw is run.  
From April 2019 the draw will take place monthly and there will be three prizes each month;
1st Prize – £50
2nd Prize  – £25
3rd Prize – £10
In December, in time for  Christmas the amounts will be doubled to £100, £50 and £20.
The draw will continue to be made at the Wednesday or Thursday Lunch Club.
Join in if you want to win – £20/year – contact Karen in the office to sign up!
Why are we changing?   You tell us and we think you are right that the 2 large prizes each year mean the chances of winning are very slight and with this interest is lost.
This way there are 36 winners every year.
To boost your chances of winning you can buy more than one membership, each membership is eligible for a prize, each month.
The cost of membership for the 2019-20 financial year remains the same at £20 but from April 2020 we intend to increase the cost to £30, and to increase the prize money at the same time.
If you have any comments you would like to make about this change please do not hesitate to contact me direct or pass on a message through any members of staff.
Know Your Blood Pressure Day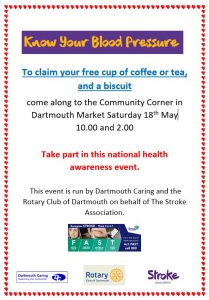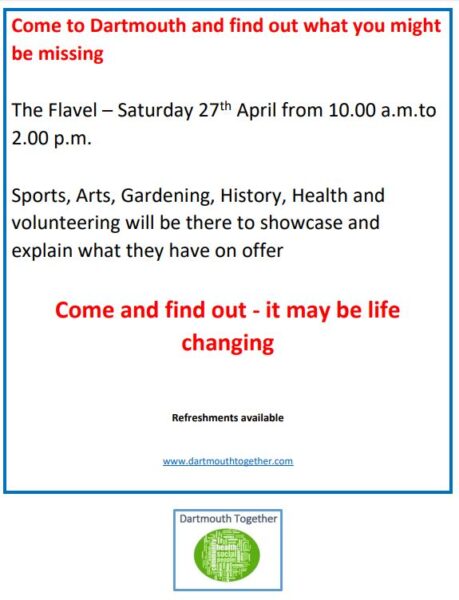 Dartmouth Together Community Event - 27th April
On Saturday 27th Dartmouth Together has organised a community event at the Flavel.  This event gives everyone a chance to see a wide range of activities and support services already here in Dartmouth.  Between them these groups offer a fantastically rich range of things to do and people to talk with.
Take the opportunity to find out more and spread the word to your friends, family and neighbours by coming along between 10.00 a.m. and 2.00 p.m. and speaking to those who are there.
Dartmouth Together's key objective is to develop Social Prescribing in Dartmouth and local villages.  This comes about through a better connected community, one where more of us are aware of the support and opportunities that already exist.  )You can see all our objectives on the back cover of this booklet.)
What is Social Prescribing?
The concept aims to help people be more connected with others and for them to remain in better control of their health and lives.
It has been successful elsewhere in England and is endorsed by the NHS, with prescribers often being doctors or nurses.
Social prescribing may involve getting help eg from Citizens advice or social activities like volunteering, gardening, befriending, cookery, healthy eating advice and exercise with others.
Different aspects of Dartmouth Together will be more relevant to some than to others but feeling connected should be a common goal for us all
Dartmouth Together recognise that this will be a long term piece of work but today, by harnessing what we already have, increasing uptake and participation, we believe this is one step towards achieving this objective.
Who will be there?
Group
1.      AA
2.      Alzheimers' Society
3.      Dartmouth Arts Society
4.      Dartmouth Bell Ringers
5.      Community Orchard
6.      CVS
7.      Dartmouth Caring
8.      Dartmouth Green Partnerships
9.      Devon Carers
10.  Dartmouth Gig Club
11.  Girl Guides
12.  Healthwatch, Devon
13.  Dartmouth History Research Group
14.  Devon Recovery Learning Community
15.  Dartmouth Shokotan Karate Club
16.  Dartmouth Mayflower 400
17.  Dartmouth Medical Practice
18.  Dartmouth Museum
19.  Dartmouth Club de Pétanque
20.  Patients' Participation Group
21.  Rotary Club of Dartmouth
22.  Friends of Rowcroft Hospice
23.  Dart Sailability
24.  Sea Cadets
25.  South West Ambulance Service
26.  Swim4Health
27.  Dartmouth TIC
28.  U3A – Sports
29.  U3A
30.  Dartmouth Walk & Talk group
31.  Dartmouth Yacht Club
Address
Dartmouth Caring
35 Victoria Road
Dartmouth
Devon
TQ6 9RT
Registered Charity: 900226