EVENTS

Dartmouth Membership Raffle Draw
Trustees have been discussing for a while now how we run the draw.  They have recently agreed to some proposed changes.  These mean that with effect from 1st April we are changing the way the draw is run.  
From April 2019 the draw will take place monthly and there will be three prizes each month;
1st Prize – £50
2nd Prize  – £25
3rd Prize – £10
In December, in time for  Christmas the amounts will be doubled to £100, £50 and £20.
The draw will continue to be made at the Wednesday or Thursday Lunch Club.
Join in if you want to win – £20/year – contact Karen in the office to sign up!
Why are we changing?   You tell us and we think you are right that the 2 large prizes each year mean the chances of winning are very slight and with this interest is lost.
This way there are 36 winners every year.
To boost your chances of winning you can buy more than one membership, each membership is eligible for a prize, each month.
The cost of membership for the 2019-20 financial year remains the same at £20 but from April 2020 we intend to increase the cost to £30, and to increase the prize money at the same time.
If you have any comments you would like to make about this change please do not hesitate to contact me direct or pass on a message through any members of staff.
Know Your Blood Pressure Day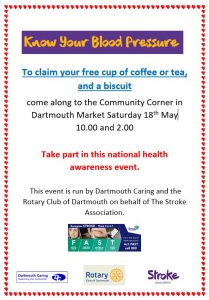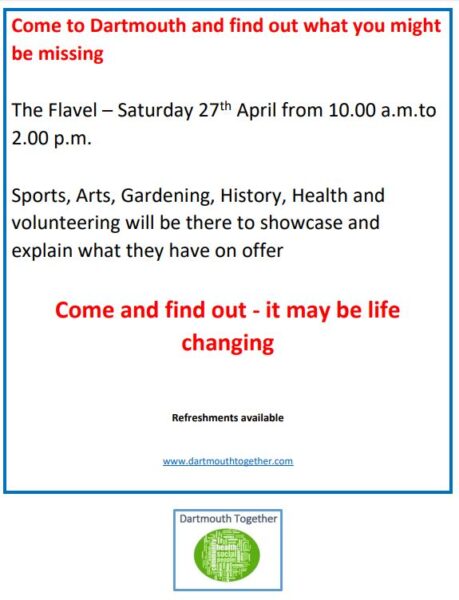 Dementia Friends Event - June 25th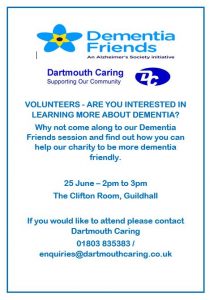 Address
Dartmouth Caring
35 Victoria Road
Dartmouth
Devon
TQ6 9RT
Registered Charity: 900226