Dartmouth Caring Raffle - Draw 14.11.17
Raffle in aid of Dartmouth Caring
On Wednesday 18th October we launched our raffle at the Flavel which includes prizes from local artists, Paul Barclay and Jenny Wynne Jones. There is also a cash prize of £100. Tickets cost £5 and are available from the Dartmouth Caring office.
The draw will take place on November 14th at our coffee morning at the Royal Castle Hotel between 9.45am and 11.45am. Please come and support Dartmouth Caring.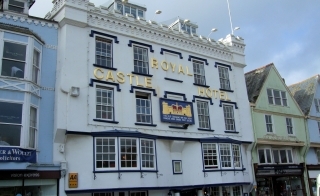 Events taking place in the next month
Dartmouth Caring in the Market Square – Tuesday 24th October
Winter Coffee morning at the Royal Castle Hotel on Tuesday 14th November – 9.45am to 11.45am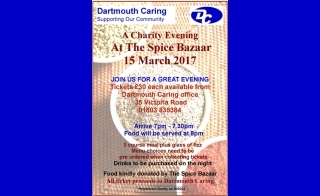 Charity Fundraiser - Spice Bazaar
Join us for a fantastic evening of food and drink at Spice Bazaar in Dartmouth.  Tickets available from our office
Venue: "Spice Bazaar", Dartmouth
Date: Wednesday 15th March 2017
Time: 7.00 for 7.30 pm.