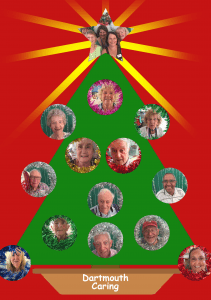 This year the Christmas card produced by Dartmouth Caring is just a little different. In a move away from traditional artwork, the clients at the charity's Memory Café developed the concept of personalised Christmas baubles hanging from a stylised tree.
At the height of the blistering heat this summer, Kay Pratley constructed suitable seasonal backgrounds, tried to convince everyone to think of snow, turkey and Christmas pudding and then persuaded clients from the Memory Café and the Lunch Club to pose for their Christmas portraits.
After some clever computer manipulation, this year's Christmas card was 'born'. When asked about the project, Support Worker Kay stressed that the genesis of the concept came directly from the clients who, along with the staff and volunteers, thoroughly enjoyed seeing it come to fruition.
Packets of 6 cards, costing just £3.00 can be purchased from the Dartmouth Caring office.
All proceeds from the sales will go directly to supporting the charity's work in the local community.