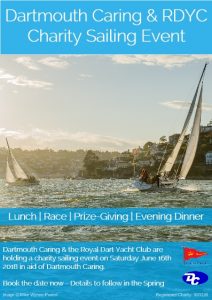 Royal Dart Yacht Club, Kingswear, Saturday 16th June 2018
• This year's event is a new venture bringing together Dartmouth Caring ,a support group for patients in Dartmouth and Kingswear with the Royal Dart Club and its long 40 year tradition of hosting the Devon Medical Sailing Rally
• Devon Medical Rally now in its 40th year, Dartmouth Caring Race a brand new event.
• An open invitation to all sailors to join a charity fund raising event on the beautiful River Dart at the height of summer. No requirement to have a medical professional on board (but there will be a prize for the first boat that does).
• Lunch from 12:45 onwards. Racing 14:30 to 17:00. Bar Open during afternoon for non-participants. Prizegiving at 18:00. Dinner at 19:00 with an entertaining speaker afterwards.
• Charities supported Dartmouth Caring and ????
• The Race will be the familiar Pursuit Race with the slowest boats starting at 14:30. Full sailing instructions including start times and courses will be available at the club on the day. The aim is for the race to finish at 16:30 and prize giving will be at the club at 18:00. All boats must have insurance including racing risks.
• Gentlemen's Sailing Boats: a special class for non-racing boats with a prize for style and good sailing, not speed. This class will be subject to the ordinary 'Rules of the Road' (IRPCS) and not to the Racing Rules of Sailing, and should fly their Ensign to indicate that they are not racing.
• The entry fee for the race is £10 per person and includes a light lunch of a pasty (including vegetarian option) with a salad.
• Dinner in the evening will be £30 head and include a contribution to Dartmouth Caring.
Mooring to Club pontoon. Please note that Junior Sailing takes place at the club until midday and it would be appreciated if you do not moor up to the club pontoons before 12:30hrs.
THE ENTRY FORMS WILL BE AVAILABLE BY EASTER.
Please forward by e-mail, print or photocopy and pass on copies of this invitation to anyone who you think may like to enter.
Also available on www.royaldart.co.uk Please circulate as widely as possible for this very enjoyable event